RS Group Introduces RS Diversity, Equity and Inclusion Policy, As The Celebration of Differences & A Showcase of Endless Possibilities, Penning Down Additional Employee Welfare to Promote Gender Equity.
Diversity, equity and inclusion have recently gained its awareness and importance. RS Public Company Limited or RS Group is an organization that aims to aspire and fulfill everyone's lives with creative and invaluable entertainment, products, and services. 'RS Diversity: The Celebration of Differences & A Showcase of Endless Possibilities' further reinforces and solidifies RS Group's stance in diversity and inclusion with additional welfare and policies that support gender diversity within the company, as the executives provide opportunities to every employee to showcase their abilities and create an inclusive workplace for all.
Surachai Chetchotisak, Chief Executive Officer, RS Public Company Limited, said, "RS Group is definitely a diverse company. Our Entertainmerce business model has integrated our expertise in producing quality media and entertainment with commerce business, which has led to a diverse portfolio of products and services. At the same time, RS Group also welcomes diversity in our workplace, for instance, our telesales representatives at RS Mall, news reporters on Channel 8, COOLJ at COOLfarenheit, artists at RS Music, as well as actors and actresses we engaged. They are diverse in terms of their age, gender, experience, hometown, background, and abilities. This workplace diversity has become integral to RS Group's success in transforming our organization that we have become a case study for others to follow. I am confident that diversity at RS Group is not a problem for management. Rather, diversity in skills and capabilities is beneficial in driving our organization forward. The more we accept and provide opportunities to one another, the stronger we become in every aspect. That is why we crafted our policies to provide a tangible set of welfare for our employees to promote diversity and inclusion. Moreover, we also operate and manage our business with diversity and inclusion consciousness, thus we work tirelessly to define working guidelines for all our operations, including products, services, and other business activities, to create equitable environment for our partners and stakeholders."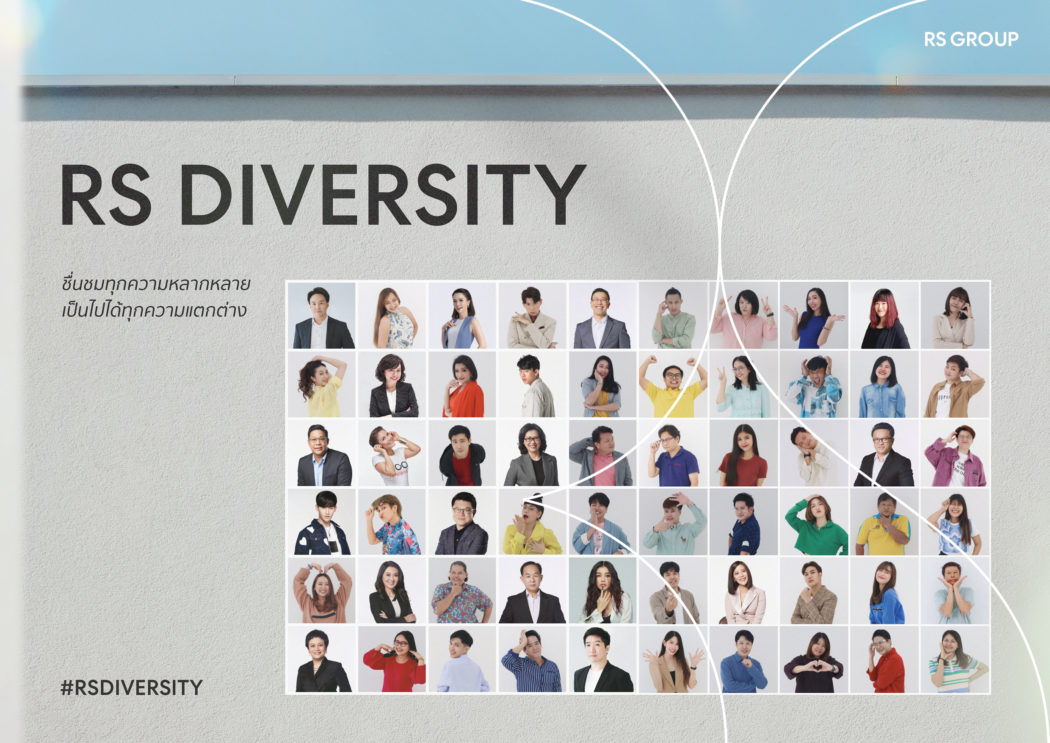 Today, RS Group has almost 1,400 employees. Among the top executives, 30% is below 40 years old. Its workforce is comprised of 1% Baby Boomer, with three employees who are older than 60, 33% Gen X, 64% Gen Y, and 2% Gen Z. Therefore, diversity management is one of the essential mechanisms to drive sustainable growth in the company. Additionally, employee wellbeing is considered one of RS Group's core policies, thus the development of 'Diversity, Equity, and Inclusion' policy is a natural move, with the aspiration to become workplace of choice, where everyone can work together happily. This policy emphasizes the expansion of welfare for employees to reflect diversity and inclusion at RS Group, namely:
Days of leave for marriage ceremony and registration – Employees can take days of leave, as indicated by the company's policy, for marriage ceremony, including same-sex marriage, while employees will receive normal compensation.
Financial support for marriages – Employees will be granted a financial support of 5,000 baht as a congratulatory remark for both opposite-sex and same-sex marriages.
Days of leave for gender affirmation surgery – Employees will receive compensated leave for gender affirmation surgery for 45 days, which is equal to maternity leave.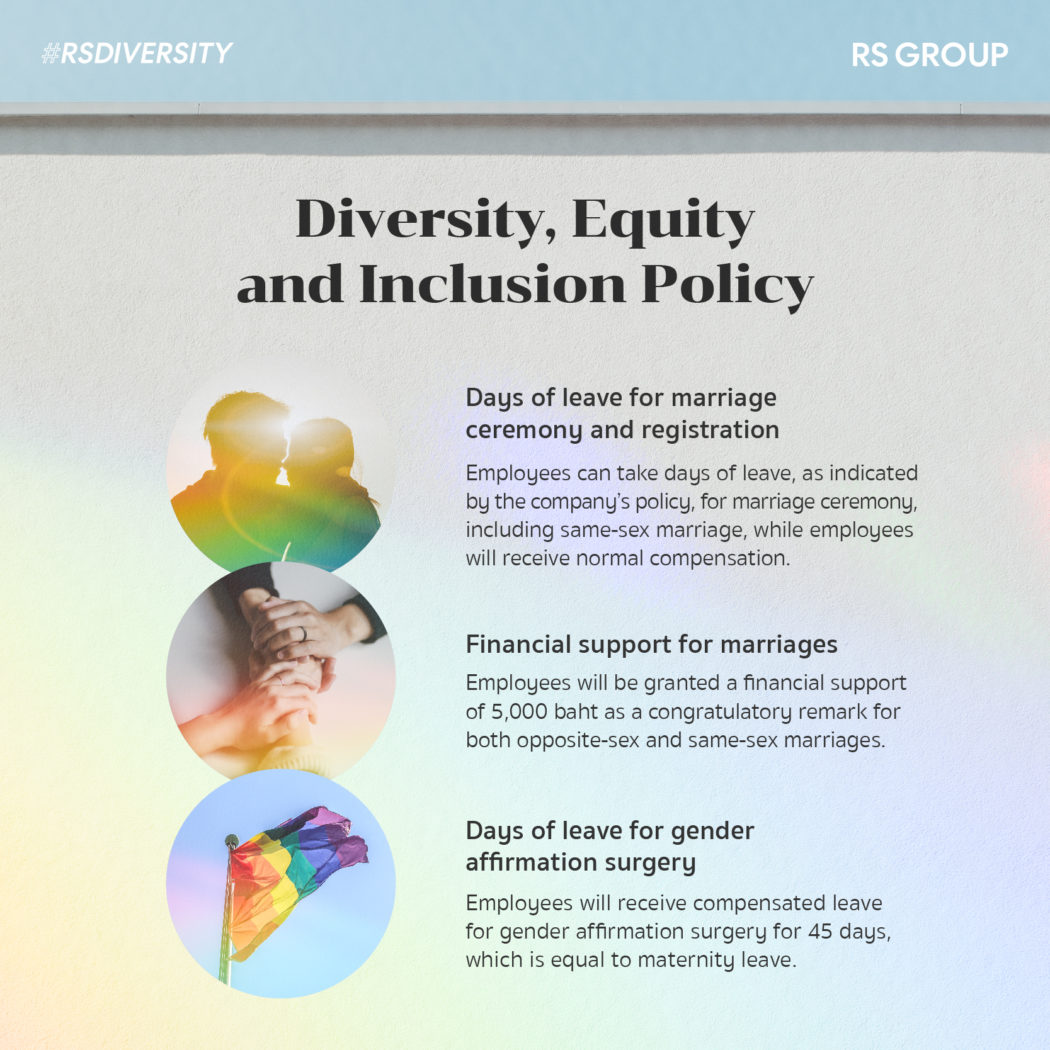 "RS Group, in collaboration with all business units in both commerce and media-entertainment, has organized a parade to campaign for diversity and inclusion within a workplace. The event was organized by employee volunteers from various departments to announce our stance in supporting diversity and inclusion under 'RS Diversity: The Celebration of Differences & A Showcase of Endless Possibilities' campaign that truly reflects RS Group's identity as the company of diversity, equity, and inclusion that welcomes everybody," Surachai concluded.
For future news and updates of RS Group, please visit www.rs.co.th and https://www.facebook.com/RSGROUPOFFICIAL. For more details on the Diversity, Equity, and Inclusion policy, please visit  https://www.rs.co.th/th/category/นโยบายและเอกสาร
###