Full of Captivation, Laughter and Tears – All in One Concert "D2B ETERNITY CONCERT: 22 Years Since the First Day I Fell in Love With You"
It was a full four-hour spectacle by COOLive under RS Music, which fulfilled all Snipers with an unparalleled and enjoyable experience. In the midst of the excitement, everyone smiled, laughed, sang, danced along and even cried with the number one boy band, "Big – Panrawat Kittikorncharoen, Dan – Worawech Danuwong, and Beam – Kawee Tanjararak." They have returned to make new memories in the "AMPOLFOOD Presents D2B ETERNITY CONCERT: 22 Years Since the First Day I Fell in Love With You," featuring cutting-edge AI technology! This allowed everyone to see and hear "Big" perform right next to "Dan-Beam" in the most completed edition for the first time in the past 22 years, at two rounds with different elements on Saturday, August 5th, and Sunday, August 6th, at IMPACT ARENA, Muang Thong Thani.
The enthralling experience began since the opening scene of the trio "D2B" in which they descended from above onto the stage in a dramatic capsule, complemented by the song "Never Change My Mind (Only You)." The hall was filled with impassioned cheering throughout the hall, followed by intense performances of "Fight with Fear" and "I Want You to Bite Me" further completed with a team of dancers and stunning fire effects.
After greeting Snipers, they engaged the fans with light sticks that were able to change into different colors via Wi-Fi signals and even displayed the letters "D2B (heart) SNIPER" and "D2B ETERNITY." Later, they sang the song "You Love Someone Else, Do You?" and "No Matter You Love Me or Not."
After that, they let everyone travel back in time 22 years when "Big-Dan-Beam" auditioned to become RS artists by performing their audition songs. "Beam" chose "First One" by "James Ruangsak," while "Dan" rocked with "Goodbye" by "Dunk Phunkorn," and "Big" excited the crowd with "Just Remember" by "Dome – Pakorn Lum."
Two rounds of exceptional performances had two different guests, delivering different styles of fun. The first day featured the talented "Four Sakonrut" singing "Whose Girlfriend Is This?" and "Melting." Meanwhile, Sunday's audience got to see the extremely competent young artist "THE TOYS" who performed "Close" and "Lala Loy (100%)" with the "D2B" members, stunning the audience.
Then, they told the story going back to Y2K days, when Japanese animation was popular among teenagers. "Dan-Beam" recreated a high school classroom scene while performing the song "Ditto," making all the fans in the hall fall in love with them once again.
Also, they immersed everyone to feel as if they were a part of music videos in fans' memories like paper snowflakes falling into the hall while performing the song "How Could You Do This to Me?," raining sounds throughout the song "When Will the Lies End?," and flying feathers during the song "Jealous" in which "Big" performed his solo in the capsule once again. With another gorgeous guest "Aon Lakkana," they sang "In Another Aspect" from the popular series "High School Trouble Makers" and "You Knew It" from "Freshy Trouble Makers," followed by "Bad Person" in the exclusive "Dan-Aon-Beam" version, which led the audience to passionately sing along.
Afterwards, "Dan-Beam" transported the Snipers back in time, reimagining past moments through vlogs, such as the recording studio scene that featured "I'm Just Shy, Not Arrogant" and "Single," before performing "Just Suppose" on Saturday and "Overthink" that Gam Wichayanee requested on Sunday for the music promotion tour scene.
During the hotel lobby scene, they picked fans at random and spent great time with them, while letting them choose a few key cards to select more songs to perform, such as "Situationship," "Crush," "Truths that Women Doesn't Know," and "Last Miracle," making their lucky fans melt right in front of them.
Later in the exercising yard scene, they let Snipers have a blast with "Jigsaw" on Saturday or "Ouch!" on Sunday, and TikTok's hit song "Wish Me Wealth."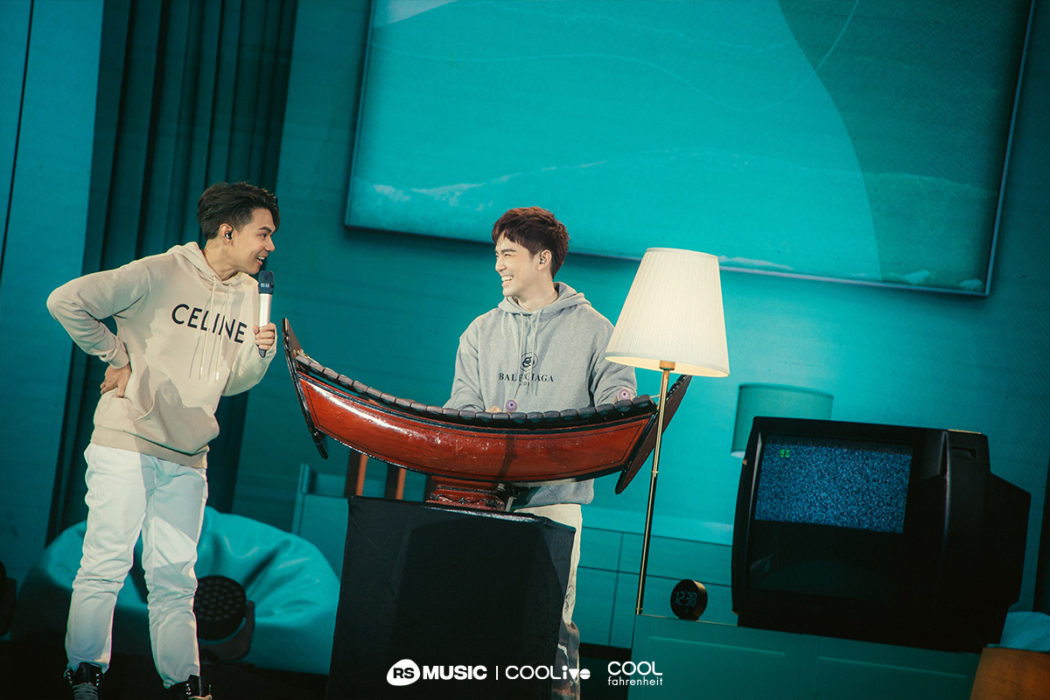 Once they arrived at the hotel room scene, Beam sang "Oh My DOS" and "Don't Say You Love Me Yet," while "Dan" performed "HONEY LATTE" and "Don't Cry When We're Far Away" on Sunday. Together, they sang "How Did We Call Our Relationship?" and "Can You Come Back?," before Beam played the Thai instrument Ranat while performing "Finding My Heart."
During the dream scene, Dan and Beam asked everyone to close their eyes and listen to Big's voice while imagining he was actually there and sang "Time is Never Enough" and "Under Pillow" together. Many people were moved to tears by these heartfelt performances, especially during the song "Same Phone Number," that was even more impressive with some more special verses designed especially for all the three members. After the song "I Want to Be Your Someone Special" ended, Big showed up as a 3D hologram to perform another solo with the song "Soft-hearted."
Another part was filled with a blast which urged everyone to dance with fun, while they performed "C.I.A, Fell for You, Too Cute to Stay Close, and Call Me Daddy." Although some songs were Dan-Beam's, Big was able to join due to the AI technology that converted Dan's recorded voice into Big's, creating an unforgettable experience.
Eventually, the journey since the first day of falling in love came to an end. Tears welled up in Snipers' eyes as they were moved by messages from "Dan-Beam," expressing their appreciation for Snipers' love and support, as well as their families' encouragement. The adorable Tanjararak twins Thee Theethongtham and Phee Pheethongtham also joined and delighted people all over the hall. The artists then wrapped up the concert with the songs "Just a Minute, I'm Nothing Without You, Since the Day I Fell in Love With You, and There's My Heart in Yours," which filled Snipers' hearts with joy and unforgettable memories. Even though they may never meet again, they will always be connected by their memories forever.
Stay tuned on the COOLISM and COOLfahrenheit applications and websites for further updates.