RS Group announces first-quarter results for the year 2020, which sees a new high of profit increase amid the economic crisis early this year up until Covid-19 outbreak, with a recorded net profit of 186 million baht or 184% increase from the last quarter of the year 2019. This is a result of the group's new business direction which has anticipated The New Normal. It is set to fully implement its "Entertainmerce" business model in media and entertainment businesses, by using entertainment business and its content creation expertise to convert viewers or listeners into buyers, to support the commerce business. This integrative approach helps to unite and leverage the full potential of all business affiliates from upstream to downstream, to strive for a sustainable future of RS Group.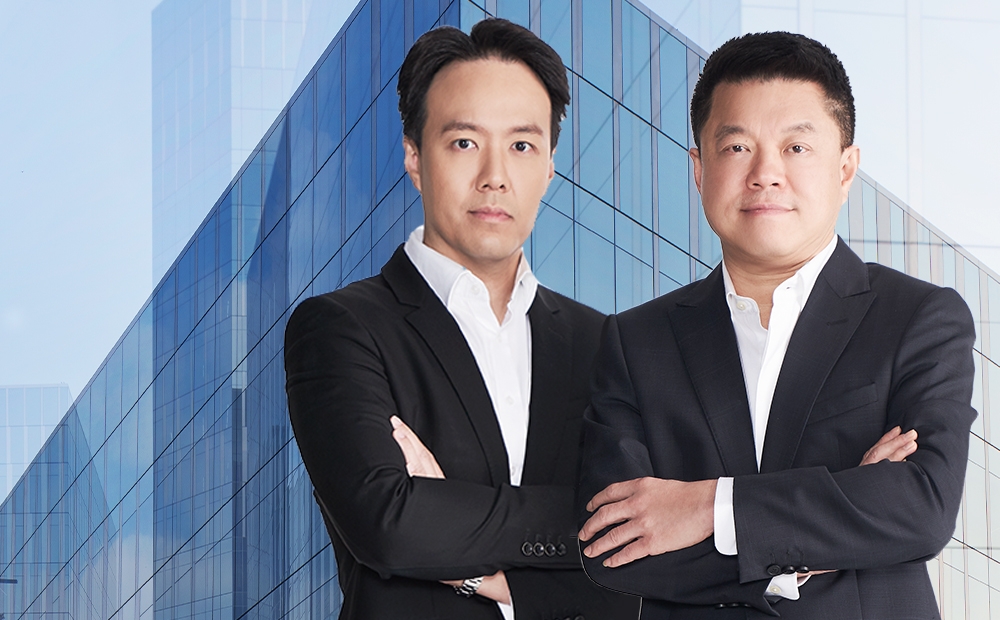 Mr. Wittawat Wetchabutsakorn Director, Chief Financial Officer of RS Group, revealed that 'Since we adjusted the business strategy to correspond to the situation, we have seen a record high profit in the first quarter of 2020 with a total revenue of 985 million baht or an increase of 10% and a net profit of 186 million baht or 184% increase compared to the last quarter of 2019. The success of focusing on profitability and generating revenue from consumer behaviors that adopt more technologies and health conscious during the Covid-19 outbreak, has resulted in the growth in commerce business. RS Mall is the platform that sells products via various channels, both on-air and online while Life Star Co., Ltd., the manufacturer of innovative health and beauty products has been a driving force for our commerce business in the first quarter by generating a total revenue of 500 million baht, an increase of 8% from the 4th quarter of the year 2019. This is derived from the expansion of our online distribution channels via digital TV leader channels and promotions based on customers' needs. We have also seen a 30% increase in revenue from new customer segment alongside the consistent growth from regular customers. RS Mall currently has a database of over 1.35 million customers. The company has used Big Data to analyze and develop methods to cater to individual demands, while introducing the Predictive Dialing System (PDS) for a better effectiveness of our tele-cell system.
Meanwhile, the media business grows despite the overall industry slowdown, with total revenue of 376 million baht, an increase of 51% compared to the 4th quarter of 2019, with Channel 8 ratings improving during the January-February period in the 15+ age group. The programs with the highest ratings are news, drama series and boxing programs. Recently, Channel 8 has adopted the 4-legged chair strategy to generate revenue across different channels to uphold the overall performance. The popularity of "COOLfahrenheit" under the operation of COOLISM ranks number one of the Easy Listening group, with most listeners in the working age group between 20-44 years, and has created a new phenomenon by hitting the new high record in 12 months, with the number of listeners streaming in more than 1.2 million times per hour during work-from-home hours from 8.00-18.00 hrs. Currently, COOLISM's business has grown from the sales of radio and online advertising and from organizing activities with program listeners.
The recent work-from-home regime has led to an increase in the revenue of the RS Group music business with higher listenership and downloads via online channels. Also, by adjusting the music marketing strategy, the cost management has become more effective and able to generate more revenue with artists being able to design and create their own work and music copyright managed across all platforms. Moreover, we organized more marketing activities and concerts in the first quarter of 2020, namely "D2B Infinity Fun2020″, resulting in higher revenue in the music business."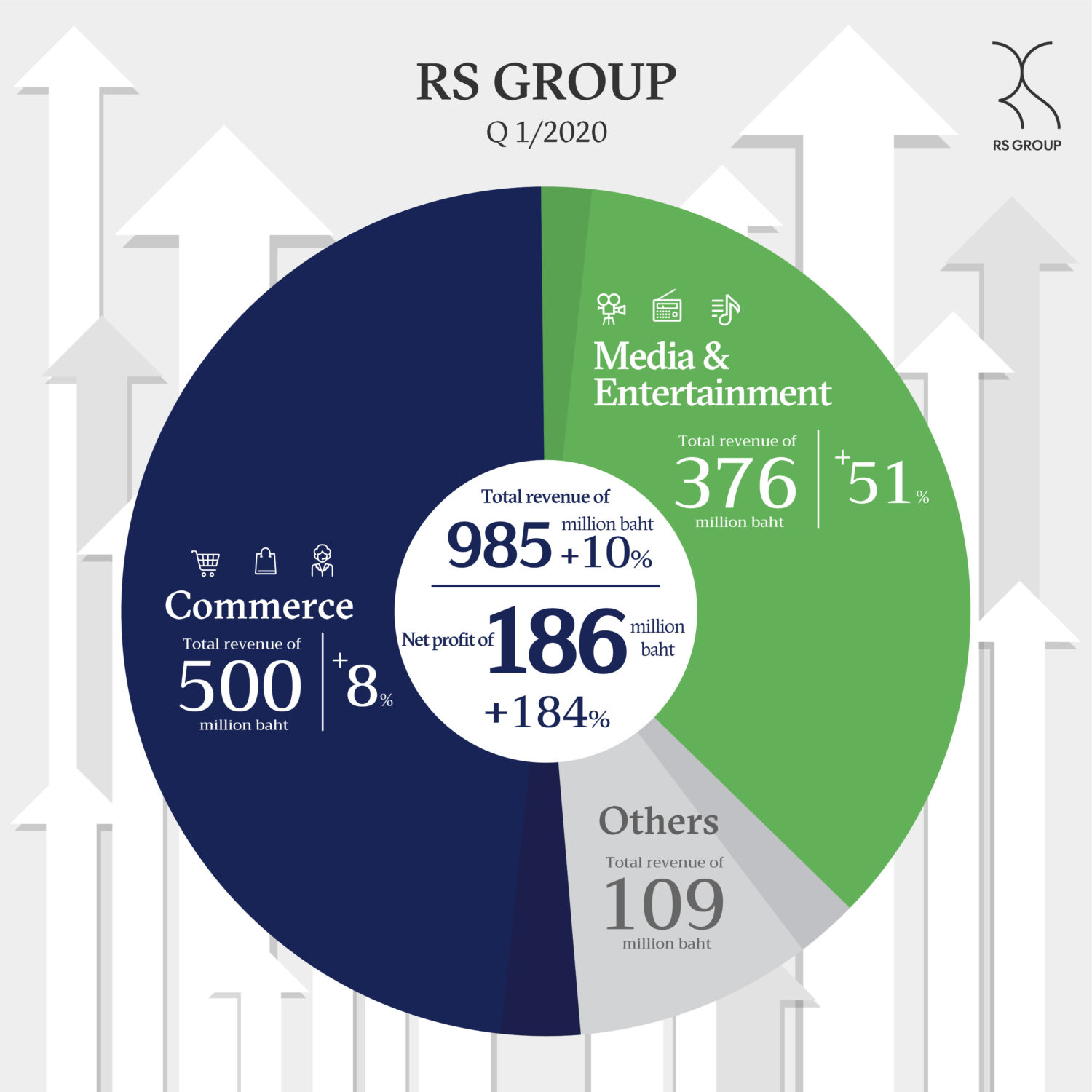 Mr. Surachai Chetchotisak, Chief Executive Officer of RS Group, said, "The first quarter of 2020 marks a strong start to the year with unexpected results. The commitment to always seeking opportunities and being well prepared helps our business to grow rather than being affected by crises. We have a variety of businesses and the capacity to adjust strategies to fit the imminent 'New Normal' lifestyle. RS Group business growth opportunities will surely be seen arising once we implement Entertainmerce strategies in all businesses namely;
1) RS Mall to launch a large campaign to offer product discount to help sufferimg from during the economic downturn.
2) LifeStar to launch new lines of immunity-boosting health products, under collaborations with global partners to make new innovations available on various RS Mall platforms.
3)Channel 8 to launch new programs in line with Entertainmerce strategy to create targeted contents and offer value-more-money products and services and generate additional revenue from the sale of drama content overseas and across online platforms.
4) COOLISM to launch COOLanything application to convert over 2 million listeners per month into buyers, enabling sales of special-priced products while listening to music.
As for the music business, sale of music copyright will generate additional revenue through online channels (OTT media service).
In addition, the company can expect a lower annual remittance for the Broadcasting and Telecommunications Research and Development Fund for the revenue year 2019 onwards, as well as a full waive of the rental fee of digital terrestrial television network (Multiplexer or MUX) from June 2020 onwards. The group is also leveraging new opportunities in content management in new markets and on other online platforms. Therefore, we are confident that the group will be able to generate this year's revenue as forecast."