CAMU C celebrates Kim Soo-hyun's Birthday by donating 500,000 bottles of vitamin C 200% drinks for moral support of healthcare workers and volunteers
To celebrate the birthday of Kim Soo-hyun, a Korean superstar and presenter of "CAMU C", 'Lifestar', an innovator and manufacturer of health and wellness products under RS Group, delivers 500,000 bottles of CAMU C drinks with 200% vitamin C and high concentration of vitamin B12 to healthcare workers and hospital staff of the Department of Medical Services who are taking care of COVID-19 patients and administering vaccinations to the people. The "CAMU C" drinks are also handed to the 'Zendai Foundation' a volunteer group that has been assisting COVID-19 patients. It is an expression of appreciation for the frontline workers and care for their good health and encouragement to get through this crisis together.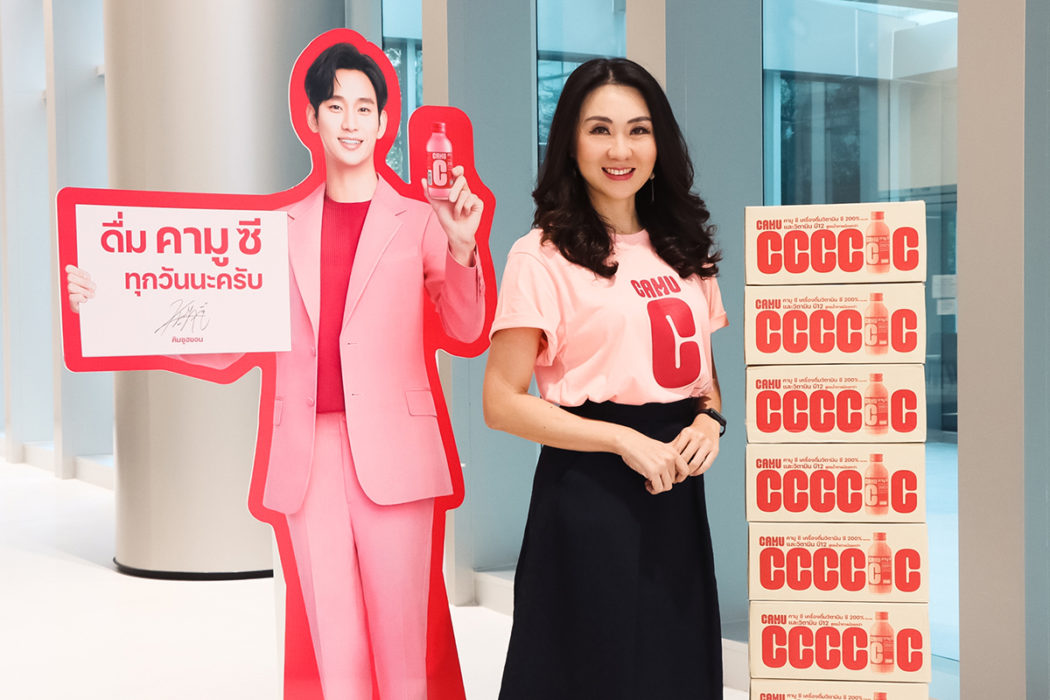 Mrs. Pornpan Techarungchaikul, Chief Executive Officer of Lifestar, revealed that Lifestar is committed to becoming an innovative wellness product company that introduces innovation to originate preventive care products while working effortlessly to ensure sustainable wellness of people. In particular, with the ongoing pandemic of the COVID-19, we have witnessed the hard work and heroic sacrifice of the frontline healthcare workers and volunteers. A lot of people are waiting in life for vaccinations and many others are admitted to hospitals with their sicknesses. We, therefore, would like to be part of this volunteer effort by forwarding our care with CAMU C, the wellness drink with natural extract of Camu Camu, a superfruit that provides the highest vitamin c concentration in the world. The drink is also rich in antioxidants, 200% vitamin C, and high vitamin B12. The wellness drinks were handed to the Central Vaccination Center at Bang Sue Grand Station and the Zendai Foundation to support their operations and provide encouragement to medical staff and COVID-19 patients to get through this critical time together."
Also, February 16th is the birthday anniversary of Kim Soo-hyun. To celebrate the brand presenter's birthday, Lifestar delivered "CAMU C" drinks to Doctor Mingkwan Wichaidit, the director of the Institute of Dermatology, the Department of Medical Services, Ministry of Public Health, at the Central Vaccination Center at Bang Sue Grand Station. On the same day, the wellness drinks were also handed to the Zendai Foundation, with Mr. Phuvakorn Srinean, Vice President of the Foundation, receiving the drinks. As many as 500,000 bottles of CAMU C drinks will be distributed to medical workers, healthcare volunteers, and the general public who come to get vaccinated at the Central Vaccination Center at Bang Sue Grand Station, Rajavithi Hospital, Metta Pracharak Hospital (Wat Rai Khing), Lerdsin Hospital, Priest Hospital, Neurological Institute of Thailand, Institute of Pathology, National Cancer Institute, Princess Mother National Institute on Drug Abuse Treatment, Central Chest Institute of Thailand, and Queen Sirikit National Institute of Child Health. Moreover, Kim Soo-hyun's fans also deliver CAMU C drinks to Ratchapipat Hospital to celebrate their beloved actor's birthday.
keep up with news and activities of CAMU C products at http://www.camu-c.com/ and https://www.facebook.com/CAMUCofficial and news of RS Group at www.rs.co.th and https://www.facebook.com/RSGROUPOFFICIAL.
###