RS Group Files for IPO to List Chase Asia on SET,
Offering 562 Million Common Stocks During IPO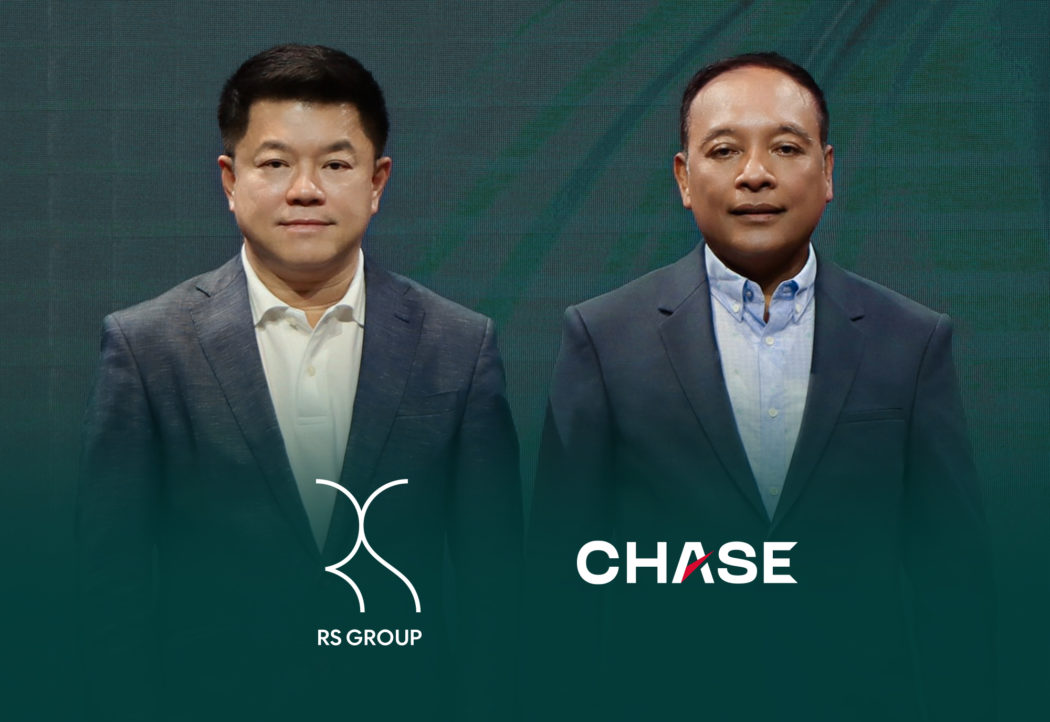 RS Public Company Limited or RS Group ("Company") prepared to list common stocks of Chase Asia or Chase on the Stock Exchange of Thailand and offer these newly issued common stocks to the public through the Initial Public Offering process (IPO), under the advisory of Kasikorn Securities Public Company Limited. The total of 562 million shares will be offered through the IPO process to raise funds to build competitive edge, create opportunity and initiate a substantial business growth of Chase.
Surachai Chetchotisak, Chief Executive Officer, RS Public Company, said "RS moved forth in filing papers to The Securities and Exchange Commission to list Chase Asia Company Limited on The Stock Exchange of Thailand to strengthen and support the company's growth in the future. 562 million shares will be offered via the IPO process. The spin-off plan is executed via R Alliance Company Limited, a subsidiary of RS Group, that currently holds 35% of Chase. A portion of the common stocks in the IPO comes from the offering of common stocks of Chase held by R Alliance and will be offered to the shareholders of RS Group to reserve Chase's IPO stocks. After the IPO, the Company will hold 20.35%, instead of the 35%, of the total amount of shares available. Nevertheless, the Company remains Chase Group's strategic shareholder and will maintain its shareholding in Chase to continue fostering strategic synergies in the future. The listing of Chase on SET will help Chase Group to grow at a skyrocketing rate from the new funds being raised."
Pracha Chaisuwan, Chief Executive Officer, Chase Asia Public Company Limited, said, "The funds raised from the Chase listing on SET will be used to expand our debt collection business, invest in non-performing loans (NPL) from other financial institutions and companies, as well as bring Chase to meet international standards. These efforts aim to improve the company's reputation, gain trust from customers and partners, and increase business potential and competitiveness."
Chase Group is consisted of comprehensive debt collection service business, NPL management business, and lending service for NPL business. Chase operates the comprehensive debt collection service business and has three subsidiaries, namely:
CF Asia Asset Management Company Limited, which operates NPL management business with NPL acquisition via a purchase or transfer under the supervision of Bank of Thailand;
Resolution Way Company Limited, which operates a personal lending business under the supervision of Bank of Thailand and also acquires NPL via a transfer from both financial institutions and non-financial institutions;
Courts Megastore (Thailand) Company Limited, which operates a lending business under the Civil and Commercial code.
Pongsak Phrukpaisal, Managing Director, Kasikorn Securities Public Company Limited, said, "Kasikorn Securities Public Company Limited is more than confident that Chase Group has differentiated itself from other players by providing comprehensive services while continuing to expand its potential with its long-term experience. Additionally, the management team has valuable experience and expertise. The fundraising will increase its growth opportunities, which will turn into competitive edge and strength in the long run for Chase."
For future news and updates of RS Group, please visit www.rs.co.th and https://www.facebook.com/RSGROUPOFFICIAL
###