RS Group highlights Q2/2023 revenue announcing 93 million baht in profit
with a 1.8 billion baht spike in H1 revenue
while expecting to generate massive earnings in H2 with the Value Unlock strategy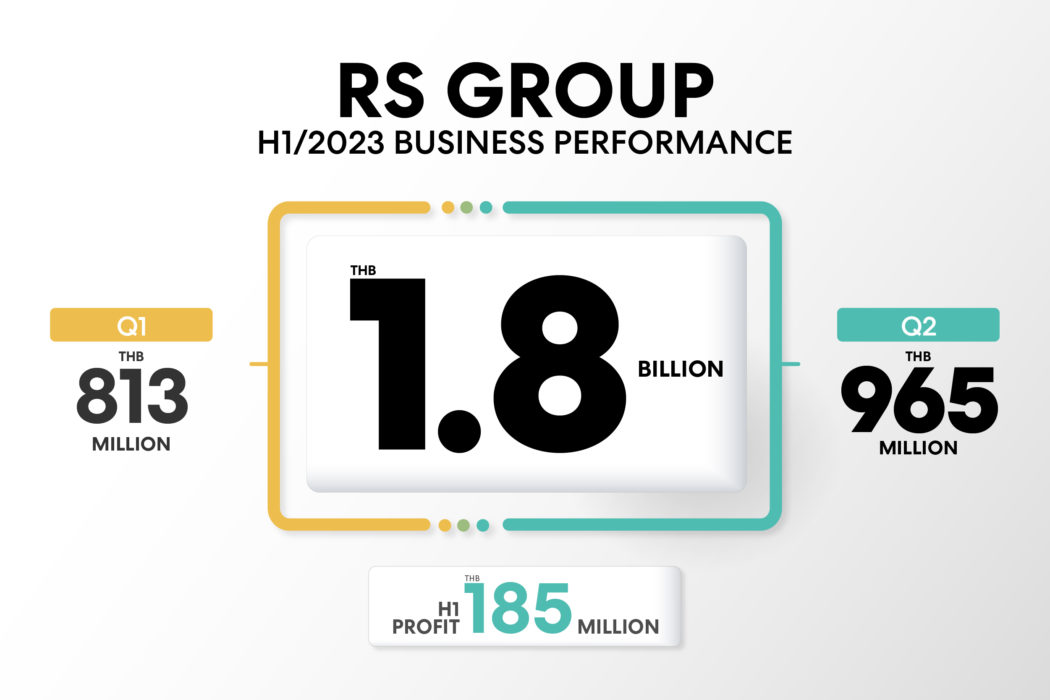 RS Public Limited Company or RS Group boasts its constant growth in the first half of 2023 with a total revenue of 1.778 billion baht, while highlighting its business performance in the second quarter of 2023 with a total revenue of 965 million baht and a net profit of 93 million baht. In comparison to the prior quarter, the entertainment businesses had recovered and saw significant growth. In the second half, its business results are projected to rise dramatically due to the unleashing of RS Group's business potential through the new business structure under the Entertainmerce business model. With the strategy, the company strives to boost flexibility in business operations and investments, as well as increase revenue through strategic partnership and collaboration. Previously, the music business has enhanced its strengths through collaboration with renowned partners both locally and internationally, namely Grammy and Universal Music Group (UMG). In addition, the commerce businesses expanded its portfolio of health and beauty products for both consumers and their pets, while exploring new business opportunities with Hato Pet Wellness. All of this will contribute to the growth of each business in the second half through revenue and special profit recognition from the entertainment businesses' partnerships and the commerce businesses' investments.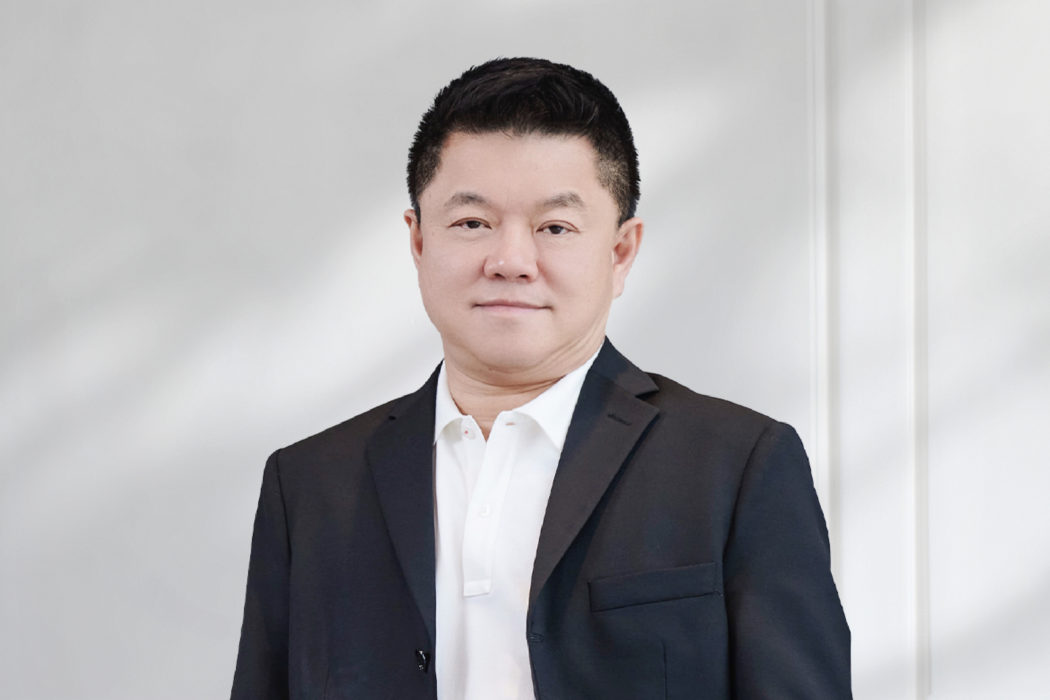 Mr. Surachai Chetchotisak, Chief Executive Officer, RS Public Company Limited, revealed: "In the second quarter, the media and entertainment businesses clearly recovered as a result of three main factors, including the news program content development under the lead of Mr. Puttha Apiwan, Director of Channel 8's News Programs, and the newly restructured advertising media sales business under the core sales unit 'Media and Marketing Sales' (MSM) and the revenue from collecting royalties from content distribution on OTT platforms. As the situation is back to normal and events are held as usual, the revenue from concerts and events surged. As for the commerce businesses, 'ULife' under RS Connect has successfully adopted the subscription business model which generated over 80% of the total revenue and showed long-term, sustainable business growth. At the same time, RS LiveWell developed new brands and products to attract the younger generation. RS Mall increased its selection of goods to give customers more options, while also enlarging its customer base to cover the new customers and exploring new sales channels, particularly online ones. These contribute to RS Group's overall revenue rise in the second quarter.
Mr. Wittawat Wetchabutsakorn, Chief Financial Officer, RS Public Company Limited, said: "In the second quarter, the total revenue from sales and services reached 965 million baht, increasing by 19% from the previous quarter. This resulted from the entertainment businesses that generated a total revenue of 630 million baht, rising by 50% from the first quarter. The commerce businesses' revenue reached 335 million baht, partly decreasing due to the adjusted strategies and business structure. However, the company earned a gross profit of 537 million baht or, increasing by 24% from the previous quarter and rising by 34% on a year-on-year basis due to the recovery of the entertainment businesses. By the end of this year, we are confident that RS Group's businesses will grow distinctively, while generating more earnings from new opportunities and expanded businesses that reflect competence of RS Group employees across the Entertainment and Commerce teams. In the second half of the year, major business movements from both the entertainment and commerce businesses under RS Group include: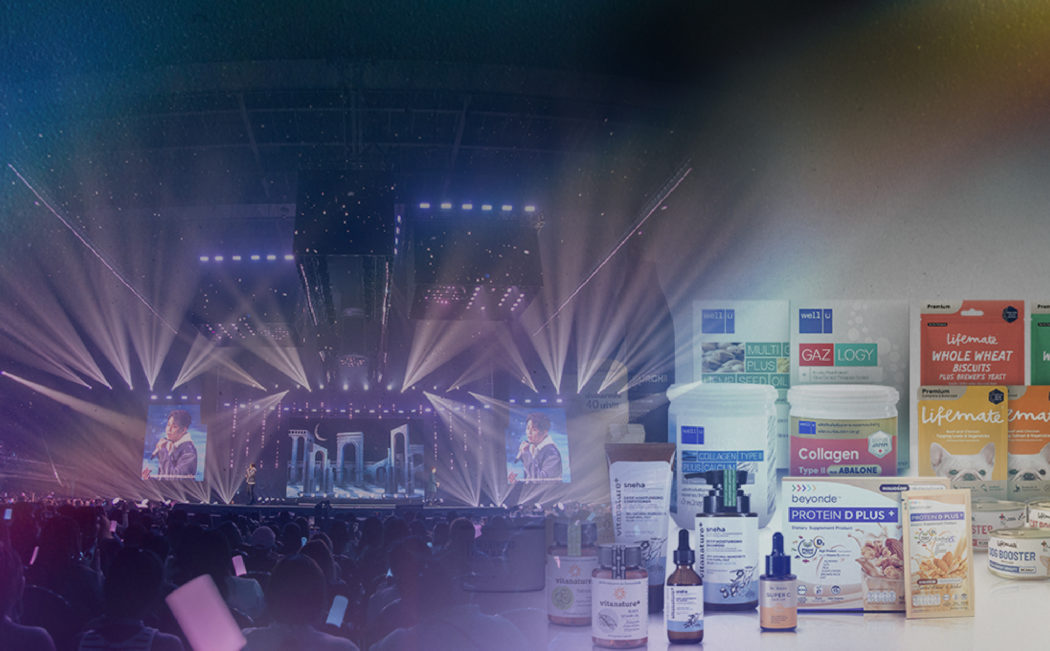 Entertainment Businesses
RS Music will host large-scaled concerts, namely 'COOLfahrenheit and AMPOLFOOD Present Kamikaze party reunion 2023' and music festivals. As for the music business, it is now actively producing new music works to raise income from different channels, including online and offline channels, brand engagement and collaboration with domestic and global partners. Locally, it has partnered with Grammy through Across the Universe JV to host special concerts together. By the end of this year, they will hold two more concerts, namely 2K Celebration and HIT100. Furthermore, it has joined hands with the global partner 'Universal Music Group' through the New JV to manage music copyrights and royalties of more than 13,000 songs, leverage its expertise in technology for online distribution and copyrights management and build on future business partnership.
RS Multimedia was mainly operated by Channel 8 with some limitations on operation and content creation. Therefore, the business was newly restructured to provide each business with flexibility to create new works and contents more freely and capture opportunities in the market. In addition to distribute contents on Channel 8, it is exploring new partnerships to develop contents in other formats through various channels.
Commerce Businesses
RS LiveWell strives to develop new brands and products to reach the younger generation, while expanding its portfolio of health products for consumers and their pets. 'ULife' under RS Connect focuses on expanding its customer base and growing sustainable revenue in the long run through the subscription business model. RS Mall strives to vary its sales channels through online and expand the customer base.
RS pet all continues adapting to the unceasingly expanding Petconomy's trends. Therefore, it strives to grow the full-scale pet-related business. It is expected that investments in Hato Pet Wellness Center will be concluded and led to the recognition of the revenue in the third quarter. Moreover, RS pet all is launching Pet All My Love, the full-service retail shop with products and services for pets.
"In the middle of the year, RS Group has adjusted our business structure by dividing our businesses into two business groups. The entertainment business group includes RS Music and RS Multimedia, while the commerce business group contains RS LiveWell and RS pet all. All of them are operated under the Entertainmerce business model. With the recently adjusted structure, each business group will be able to operate their businesses with more flexibility which enables them to come up with their strategies to move forward more effectively, while having a greater potential to explore new collaborations for strengthening each business to generate sustainable growth. Moreover, the company is still looking for business partners for M&As and JVs, while focusing on enhancing the Entertainmerce business model. By extending its ecosystem, RS Group aims to synergize upstream and downstream businesses with maximum effectiveness. In the first half of 2023, we remarkably maintained our growth rate with a total revenue of 1.778 billion baht and a net profit of 185 million baht. It is expected that RS Group will harvest revenue from partnerships and investments in different businesses in the second half of the year," Mr. Surachai concluded.
For more information and updates of RS Group, please visit www.rs.co.th and https://www.facebook.com/RSGROUPOFFICIAL
###