RS invests 880 million baht to fully take over direct sales business from Unilever, supporting Entertainmerce model to grow exponentially
and driving ULife as a leading direct sales player in the modern era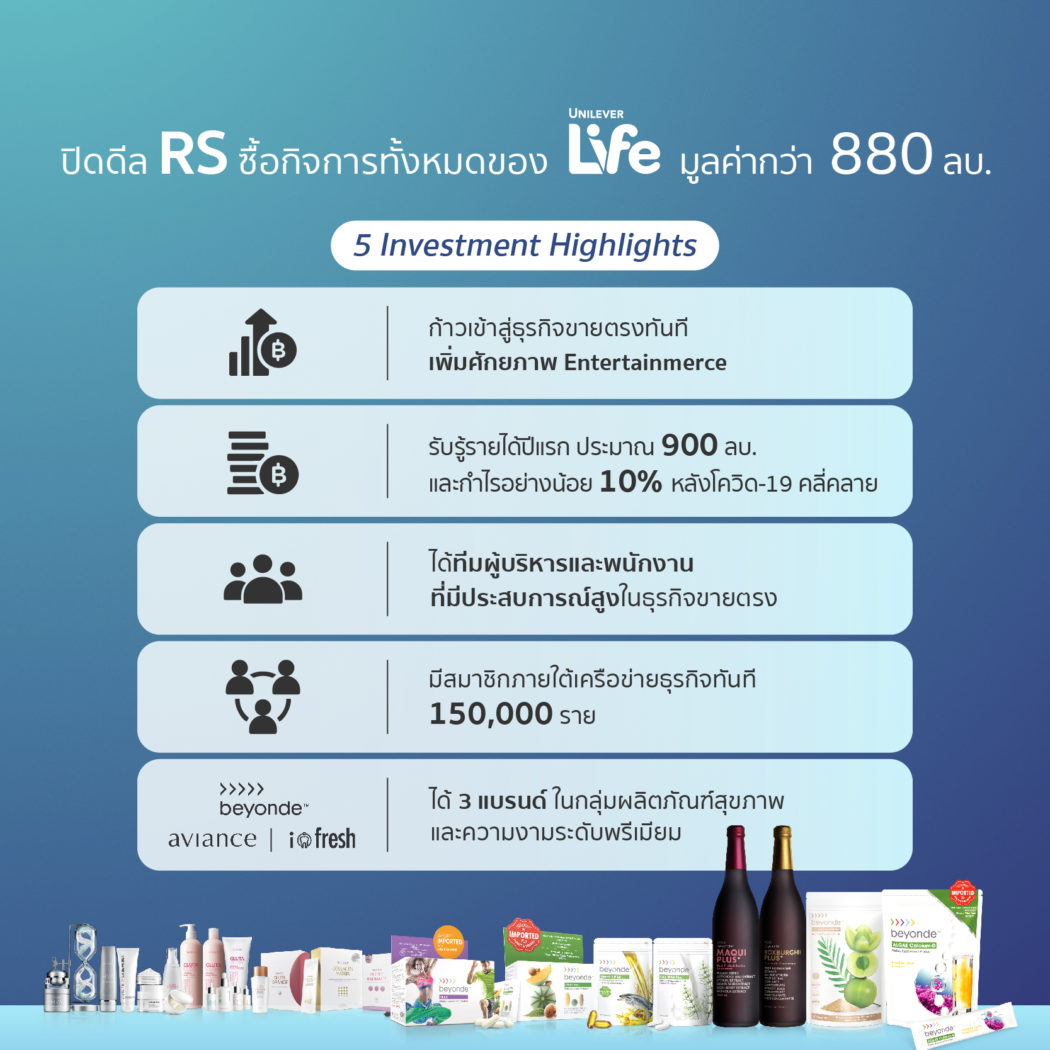 RS Public Company Limited (RS Group) declares an acquisition of the entire business of Unilever Life (ULife), a direct selling business unit of Unilever with the investment amount approximately 880 million baht to optimize the Entertainmerce model and broaden RS Group's ecosystem. This move will strengthen RS Group in terms of products, distribution channels, new business models for the commerce business group, and create synergy among its affiliates.  ULife has specialized in direct selling business for a long time, and once merged into RS Group's Entertainmerce model will be unleashed its potential to become a modernized direct selling business with exponential growth to be one of the top 5 in the country within 3 years.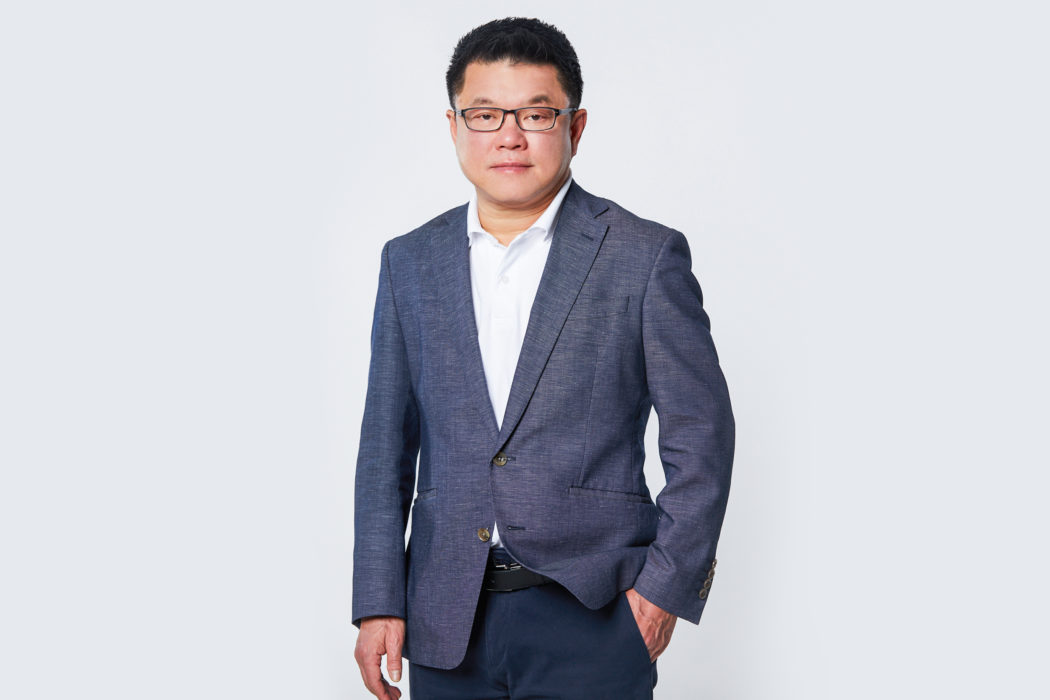 Mr. Surachai Chetchotisak, CEO of RS Group, stated that "Mergers and Acquisitions (M&A) are one of the key strategies that RS Group usually adopts to take over companies with considerable potential for growth as M&A will significantly broaden our ecosystem. The decision to fully acquire ULife – which is a purposeful business that helps Thai people become entrepreneurs through trusted platform, will strengthen the commerce business of RS Group and allow the company to reach more wider target groups through new distribution channels. Therefore, this transaction increases business opportunities and creates added value for the Group while highlighting its mission to fill people's lives with quality products and services and inspire Thai people to be passionate about having stable jobs and income."
"Besides, 'direct sales' is a business that RS Group is keenly interested in, as the overall growth of the industry is expected to reach a minimum of 6-7% a year, meaning ULife has tremendous potential to grow. When merged with the Entertainmerce model of RS Group and its affiliates, ULife can maximize its efficiency and distinguish itself in marketing and product distribution, thus leading to new opportunities in terms of increasing sales, strengthening current business partners, attracting new prospects and more variety of new product lines for stronger growth potentials. Crucially, ULife can use RS Group's Popcoin, smart marketing platform, to create added value for the business in all dimensions such as helping to enhance and increase marketing efficiency to meet consumers' needs and thus to build engagement and drive sales. More importantly, it also helps on 'seamless big data' within the organization, which will ultimately lead to the creation of 'seamless customer experience' to our customers. This is another hi-lighted and key tool to drive ULife to be differentiated from other players in the industry."
The investment amount of approximately 880 million baht is for the acquisition of the direct selling business 'ULife', including the following assets:
Three premium brands, namely "Beyonde" (Health & Wellbeing supplement products), "Aviance" (Beauty & Personal Care products), and "I-Fresh" (Oral Care) which comprise of 76 SKUs under 43 products)
Distribution channels, including online stores and physical stores
Business management & operating systems and softwares
High experienced management along with all employees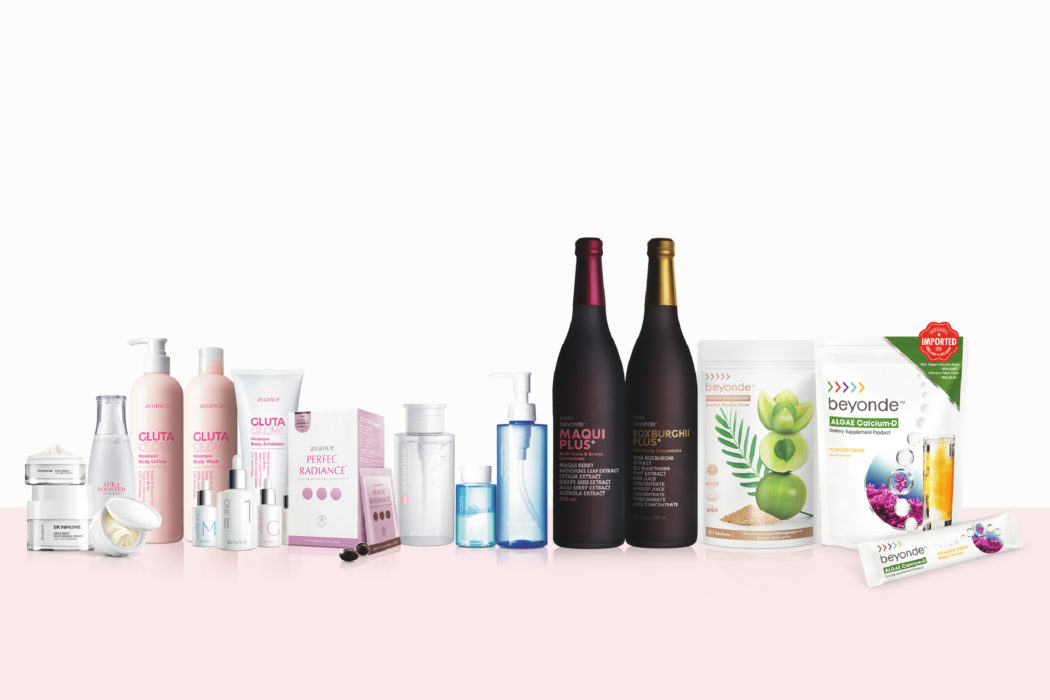 ULife, a direct sales business unit under Unilever, is the market leader in premium health supplements and beauty products in direct selling business. Several SKUs are the most popular and one of the highest sales in the industry, such as Beyonde MAQUI PLUS+ (a super antioxidant health supplement beverage made from maqui berries and 12 superfruits) and Aviance Collagen Matrix (100% collagen from France and Japan).
"With long experience and expertise of the executives and more than 150,000 business partners of ULife, together with the synergy from the ecosystem of RS Group's, it is expected for ULife's revenue to reach 1,000 million baht post Covid-19 situation. We also have a goal to unlock the full potential of ULife to be in the top-five league of direct selling industry in Thailand by 2024", Mr. Surachai added.
keep up with news and activities of RS Group at www.rs.co.th and https://www.facebook.com/RSGROUPOFFICIAL.
###