RS Music to fire up Thailand's music industry
with management's approval to spin off the music business to be listed next year
while working on company restructuring to fully advance its business  
RS Group pursues its plan to drive RS Music as the company's first business to be listed on the Stock Exchange of Thailand (SET) by 2024, after the management has approved to spin off the business in order to expand investment consistently. Meanwhile, RS Music is adjusting its structure to prepare its integrated music business for full operation. Going public on the stock exchange, it will produce fresh, new works to thrill Thailand's music industry and boost business growth together with domestic and international partners to expand the revenue base of digital monetization through online channels, which cover various streaming platforms and social media. To create a one-of-a-kind experience in Thailand's music industry for consumers, it is also seeking talented professionals to join the team and grow together. As a result, RS Music will be able to achieve its target revenue of 700 million baht by the end of this year, elevating Thailand's soft power with global competitiveness.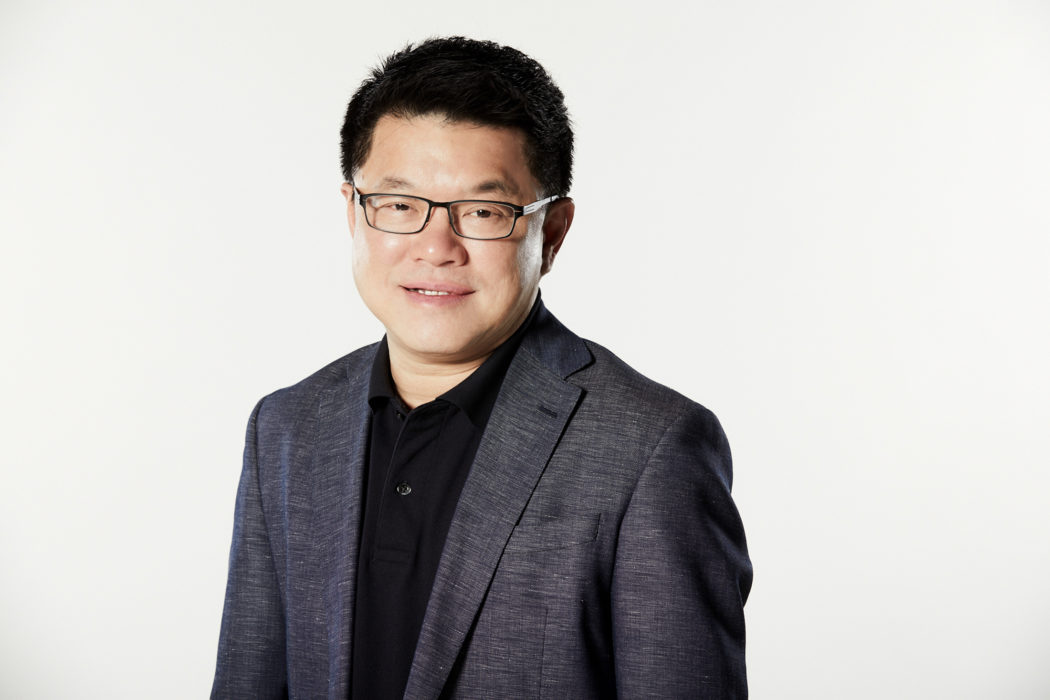 Mr. Surachai Chetchotisak, Chief Executive Officer of RS Public Company Limited, said: "Earlier this year, RS Group announced our plan to vigorously resume our music business. Recently, our management has given the music business approval to actively proceed with the business growth expansion plan by spinning off the music business as the company's first business to be listed on the Stock Exchange of Thailand (SET). With diverse opportunities to generate revenue in the music industry, especially from digital channels, RS Music strives to raise funds through an initial public offering (IPO) in order to fully invest in the music business again. The funds will be used to producing new music works, while engaging with various partners through different forms of collaborations, including M&As (Mergers and Acquisitions) and JVs (Joint Venture). Recently, we announced a joint venture with Grammy, a partner that has always been developing Thailand's music industry together with us. Furthermore, we are finalizing another significant deal with an international partner and expecting to announce it by this year's second quarter. To create an innovative music experience, we are bringing competent working team members to the company as well. All of these contribute to our decision to spin off RS Music to enter the SET. As our firm continues to accelerate business growth, we strive to create new works and diverse music experiences that fulfill demands of consumers and provide listeners from all over the world with convenient access to our music contents through a wide range of online channels."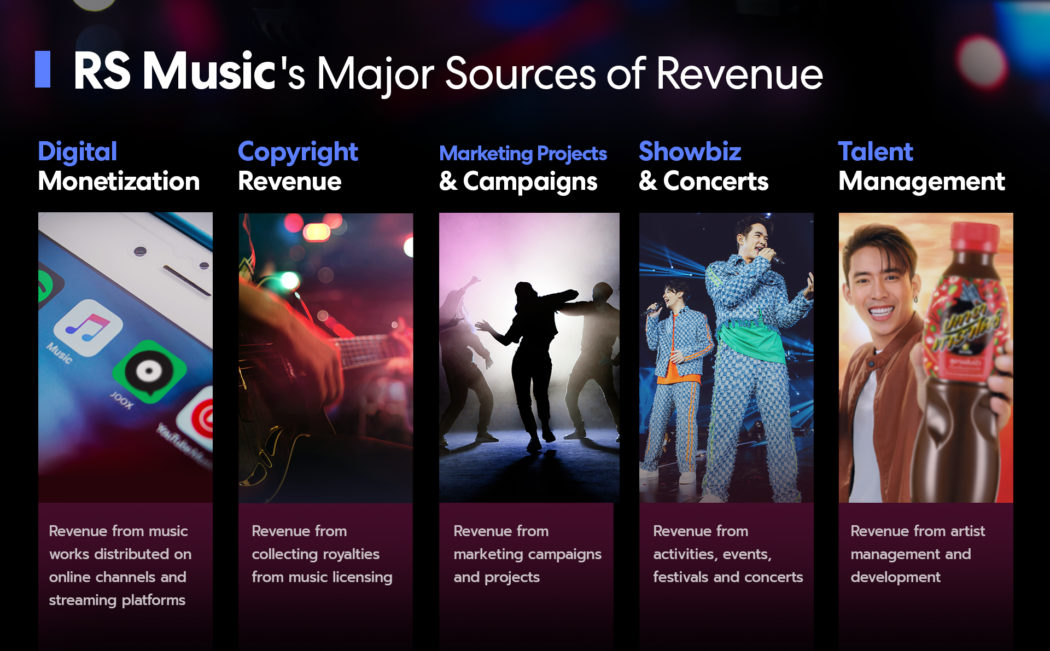 In the present, RS Music's revenue is generated through five main sources, including:
Digital Monetization or the revenue from music works by new artists and legendary icons of RS distributed on online channels, namely social media, such as YouTube, Facebook, Instagram, TikTok, and streaming platforms, such as Spotify, Apple Music, JOOX, etc.
Copyright Revenue or the revenue from collecting royalties and monetizing intellectual properties (IP) and other music licenses under RS Music
Marketing Projects and Campaigns or the revenue from related marketing campaigns and projects, such as music work development with partners
Showbiz & Concerts or the revenue from activities, events, festivals and concerts
Talent Management or the revenue from artist management and development
"We are restructuring RS Music to strengthen our music business, further grow RS Music's comprehensiveness, and enable the business to generate income from various sources, preparing RS Music to make a successful return to the music industry. We are confident that RS Music will grow the business unceasingly and reach its target revenue of 700 million baht by the end of this year with effective business model, highlight projects throughout the year and diverse strategies for generating income, including collaboration with local and international partners that will drive the business expansion, especially through digital channels, new music work development with legendary and new artists of RS in this year and revenue base extension by collecting royalties from distribution on streaming platforms. Also, we are ready to start new partnerships which will keep evolving Thailand's soft power," Mr. Surachai added.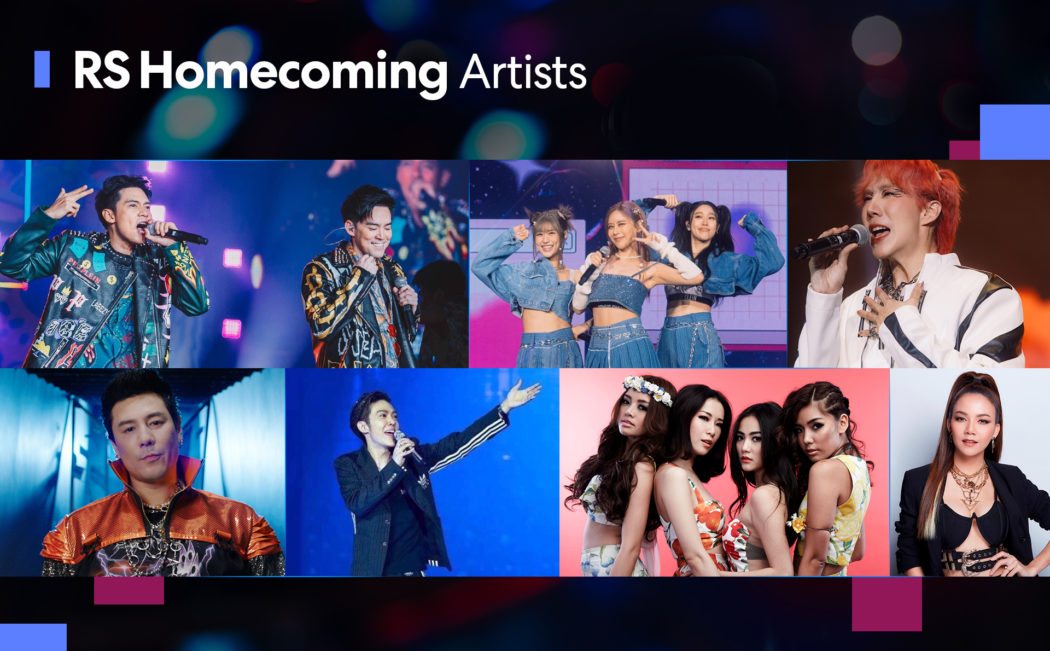 Be prepared for a thrilling experience which will be created in Thailand's music industry by RS Music's RS Homecoming project, returning with brand new music works that await your exploration by fans' favorite 90s and Y2K artists, namely Dan Worrawech, Beam Kawee, Koen Pataradanai, Dunk Phunkorn, Faye Fang Kaew, Girly Berry, Ja Nongpanee and Dome Pakorn Lam. Meanwhile, the other project RS Newcomers is actively searching and selecting one-of-a-kind artists of new generations who will create a new phenomenon and fire up the T-pop industry.
###