'Mr.Surachai' reveals a mega-deal 'RS Group & Plan B' partnership in a joint venture, shaking the commerce business, storming marketing and distribution to penetrate the mass market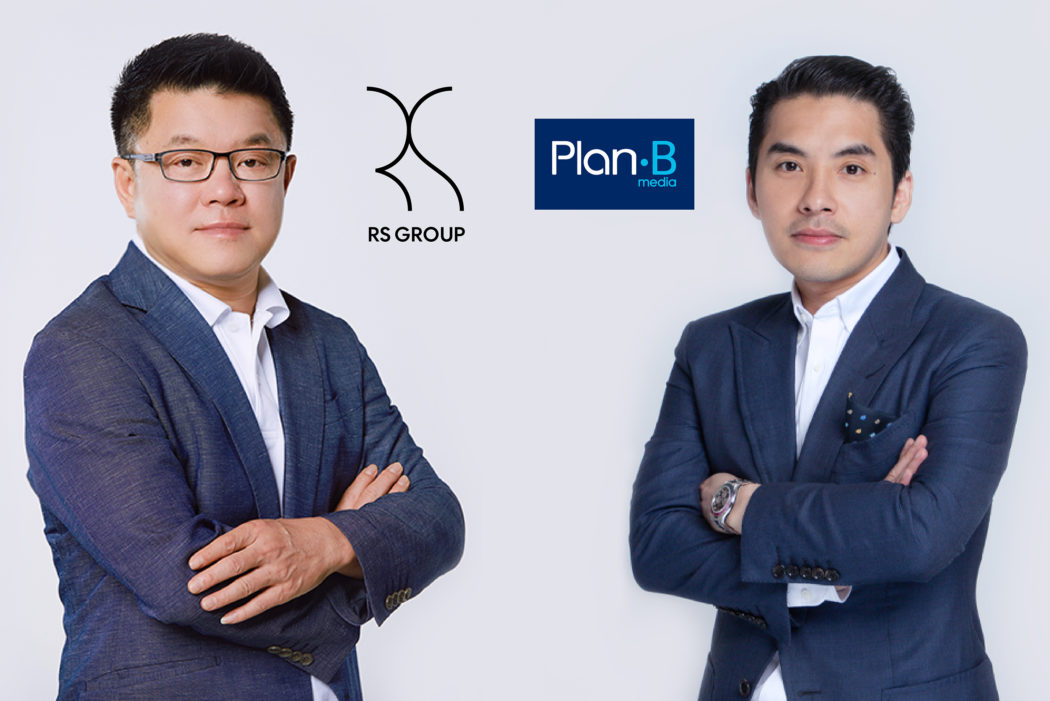 RS Public Company Limited, leading commerce, media, and entertainment corporate operated under the Entertainmerce Model, joined hands with Plan B Media Public Company Limited, an out-of-home media service provider with network coverage in Thailand and overseas. The joint venture will have a registered capital of 50 million baht to run a commerce business and marketing, emphasizing new products and distribution of products throughout the country. In this deal, RS Group holds 51% and Plan B 49% of the shares. This investment combines the strengths of both companies to reinforce the competitiveness of the commerce business and consolidate the ecosystem of both companies.
Mr. Surachai Chetchotisak, Chief Executive officer of RS Group, stated that "the Company was successful in transforming into a commerce business and securing constant growth every year with the Entertainmerce Model. This unique model brings out the potential to support each subsidiary from upstream to downstream. Now, we have introduced new products into the mass market and sold them through various channels nationwide. RS Group has partnered with Plan B Media Public Company Limited, a top out-of-home media service provider to establish a joint venture to maximize the opportunity and competitive potential. This joint venture draws on the expertise of each party to add the business value and secure sustainable and long-term growth of both companies."
Mr. Palin Lojanagosin, Chief Executive officer of Plan B Media Public Company Limited, revealed that "Plan B is pleased to be working with RS Group. Our strength is out-of-home media with network coverage all over the country, including mobile media such as Buswrap or the media in MRT systems with millions of passengers a day, expressway billboards, street furniture at intersections, media at shopping centers, airports, and large LED screens with a total area of thousands of square meters nationwide. Our advertising service also covers some Southeast Asian countries such as Singapore, Malaysia, Indonesia, and Laos to support the growth in the future. Therefore, I strongly believe that the potential of Plan B's out-of-home media can meet the various needs and behaviors of customers, which are crucial for this era because brand awareness is a key to successful marketing. We are also strengthening our media coverage with various content, including sports, marketing, artist management, and particularly advertising in 7-Eleven stores, which we are expanding to every branch nationwide. This effective effort will establish an even stronger relationship between the joint venture and our customers to boost the sales of products from this joint venture since the first year."
"The joint venture between RS Group and Plan B will increase the potential of both companies in the commerce business. RS Group will develop new products, launch marketing campaigns, and sell products to consumers all over the country. Out-of-home media that Plan B manages will be a significant tool that creates awareness and communicates the information about new products to the target groups more extensively", Mr. Surachai gave a final remark.
Those who are interested may follow news and updates of RS Group on www.rs.co.th and  https://www.facebook.com/RSGROUPOFFICIAL
###
About RS Group
RS Group has been pioneering and inspiring Thai entertainment culture since 1982. Currently, RS Group is categorized as a commercial corporate in the Stock Exchange of Thailand. The two core business groups are 1) commerce and 2) media and entertainment. The commerce business group includes RS Mall and Lifestar Co., Ltd, while the media and entertainment business has Channel 8, COOLISM, and RS Music operated under the Entertainmerce Model that controls the management from upstream to downstream. The Entertainmerce Model unlocks the potential of the media and entertainment to support the commerce business. It integrates the subsidiaries to support the growth of one another. As of now, RS Mall has a customer base of over 1.6 million people and a team of 600 tele-salespersons. RS Group has adopted Big Data to analyze customers' data to direct the right products to serve the needs of each customer. The Predictive Dialing System (PDS) has been introduced to improve the efficiency of the call center. This is a powerful backdoor system and significant strength. Our robust success has been an exemplary case of change and innovation in today's fast-disrupting business world. On this divergence, we are proud to say that we are no longer just a company that inspires people, but one that also fulfills.
About Plan B Media Public Company Limited
Plan B Media Public Company Limited is an out-of-home media service provider with network coverage in Thailand and Asean who offers a variety of media in terms of formats, techniques, innovations, including media maintenance throughout the service period. Over the past 16 years, the Company has been growing continuously from providing full advertising media services that meet various needs of brands and products as well as consultation on media planning and marketing and content development that are appealing to the audience.