RS Group unveils its newly restructured commerce business group
growing RS LiveWell for consumers and RS pet all for pets in parallel
with great confidence in the expected Q3 growth
RS Public Company Limited or RS Group highlights its strengths from its newly restructured commerce business group to prepare for the continued growth. Providing a more solid business direction and flexibility in business management, the latest reorganization will fully unlock the potential of the commerce business group in order to accomplish the goal of being "Life Enriching" for both consumers and their pets. While elevating happiness and quality of life through "RS LiveWell," the business group enhances holistic wellness of pets through "RS pet all." With the aim to develop concurrent business growth, the commerce business group has expanded its product portfolio to cover all the target groups and to diversify selling channels, reaching consumers through all touchpoints. Moreover, ULife under RS Connect highlights its success to transform the business model to a subscription model, which offers the best value and helps increase brand loyalty among regular customers, as well as generates recurring income for the company. In the future, the Group also plans to export its products to the international markets targeting CLMV and Philippines through collaboration with partners. Accordingly, the company is confident that it will achieve its projected revenue growth of over 1.8 billion baht.
Mr. Surachai Chetchotisak, Chief Executive Officer of RS Public Company Limited, said: "Since RS has transformed the businesses from media and entertainment to commerce businesses, we successfully turned millions of viewers and listeners to buyers. Starting almost five years ago, the commerce businesses created continued progress through the business model Entertainmerce, which combines our expertise in media and entertainment businesses with competence in commerce businesses and generates robust growth for us. With RS Group's commitment to be 'Life Enriching,' we strive to elevate all dimensions of consumers' living with all our businesses. Recently, we have restructured our commerce businesses to unleash the competence with clear direction and flexibility through two companies. While RS LiveWell develops and distributes products for consumers, RS pet all provides their pets with various products and holistic services. Therefore, RS Group's commerce businesses offer an extensive variety of products, namely health, beauty and homecare products for people, as well as goods for pets that have become our family members. In total, we currently have more than 150 SKUs."
In the present, RS LiveWell delivers an array of house brands, including well u, Vitanature+, DARING & CO., aviance, Beyonde, iFresh, Happie Homie and De Beste, while distributing products through their two main channels:
RS Mall, the multi-platform shopping destination for healthcare products, owns various channels, including TV home shopping and over 250 telesales agents. Also, we are now looking at expanding our consumer base through partnered digital TV channels, such as WorkPoint TV, Amarin TV, Thairath TV and other channels, such as modern trade stores, supermarkets and online marketplaces.
ULife is a platform to sell products with ULife Subscription Model, which focuses on strengthening its regular customer base and increasing opportunities to generate more income for its business partners constantly. While providing the best value for consumers, the successful business model helps further enhance brand loyalty.
RS pet all is the holistic business for pets, offering a range of products and services, including:
The pet product business Lifemate offers extensive selection of 40 goods with high quality, meeting the demands of both consumers and their pets.
The pet product business HATO VETERINARY SELECT provides pets with high-quality, premium goods curated by HATO veterinarians.
The pet product business Jungle Monster Thailand serves high-quality pet products imported from Korea.
The retail shop Pet All My Love will open its first three branches within the fourth quarter and will expand up to 15-20 brands by the end of 2024.
The pet wellness business HATO contributes to developing quality of life for pets through holistic services with its expertise in the Preventive Program. By the end of this year, Hato Pet Wellness Center will expand to six branches.
The animal hospital business has launched one branch under the name 'Bangkok-Chaiyapruek Animal Hospital' and will open a second branch by the end of this year.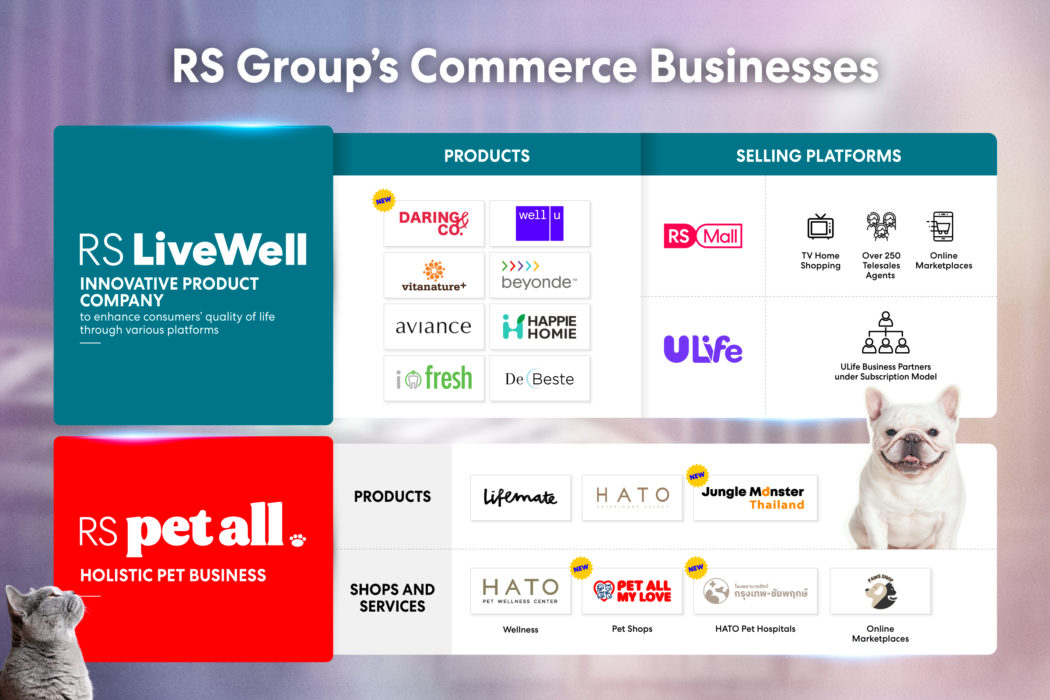 In the second half of this year, the Group's commerce businesses will see significant growth through RS LiveWell's customer base expansion, domestically and internationally. Within the fourth quarter, it aims to export products abroad, as it enters the CLMV and Philippine markets. Meanwhile, it continues to launch health and beauty products through various brands in the country. Consequently, the total sales volume had double-digit growth in the third quarter. In addition, ULife has recently celebrated its success with the business model transformation to a subscription model and experienced double-digit growth. The company impressively earned 90% of the revenue from ULife Subscription Business Model, which has an increasing number of subscribers. In the meantime, RS pet all's Lifemate grew its sales volume at a double-digit rate, as a result of its newly developed formulas to fit the market's demands. In response to higher demands, the products are distributed throughout 500 pet shops and modern trade stores nationwide, and the product lineup has become more comprehensive with a wide range of pet food and pet care products that suit the needs of pets.
As for the entertainment businesses, they continue to enjoy strong growth. In the second half of the year, the growth is expected to be even more impressive from events, concerts and advertising media, which will boost revenue to the same level as it was before the pandemic.  In the third quarter, the key driver is the revenue from concerts and events, namely Kamikaze Party Reunion 2023 and the concert HIT100 from the joint venture Across the Universe. Furthermore, a wide range of on-ground activities, including Thai boxing and local music events, were hosted across the country and developed revenue of 100 million baht from sponsorship in the second half. Meanwhile, the revenue from advertising media sales through Channel 8 Digital TV and COOLfahrenheit Music Station continues to rise from the first half.
"Nevertheless, the newly restructured commerce business group for a clearer business direction does not only push each business to leverage their full potential, but also becomes the important factor that equips more flexibility with the collaboration with new partners through M&As and JVs. RS Group's outstanding business movement, which is fast and right for the current business environment, will be the key driver for the commerce business group's revenue to hit 1.8 billion baht. In the third quarter, the overall business performance is anticipated to grow as planned. As a result of the Group's impressive performance in the first half of the year, the payout of the 0.60 baht/share interim dividends, which has been recently approved by the board of directors, demonstrates the company's strong financial status," Mr. Surachai concluded.
For more information and updates of RS Group, please visit www.rs.co.th and https://www.facebook.com/RSGROUPOFFICIAL
###