"I'm proud to be a part of the "RS" family since the first day of work. The business changes over time, but every business that RS Group operates makes me proud to work behind the success of these businesses."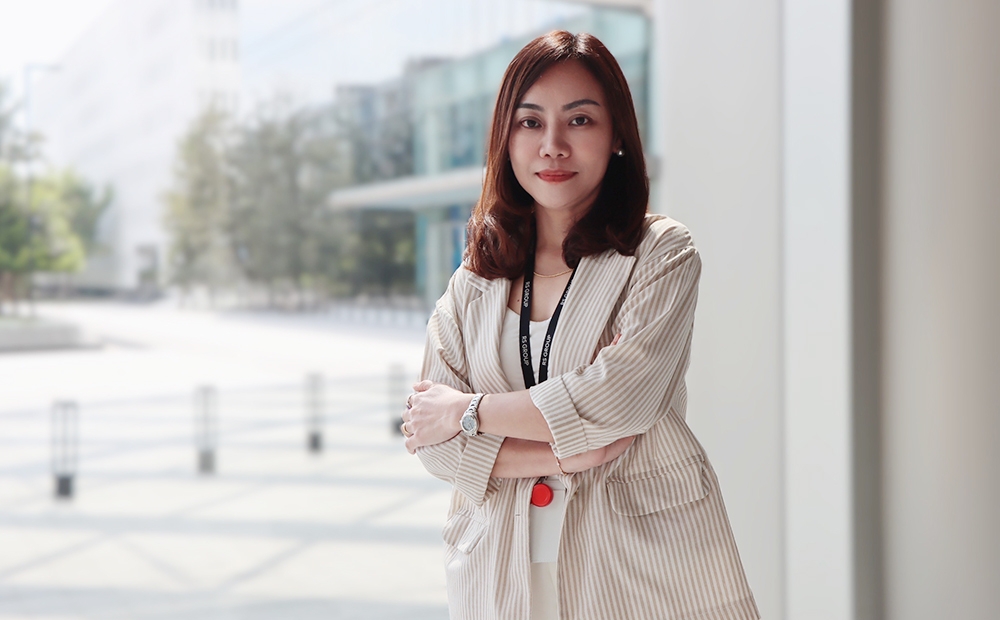 Nuttaun Pawasan (Tal), Director of Legal Affairs
Inspired since her childhood to have the legal knowledge to help the family, "Nuttaun Pawasan" decided to pursue a study in law and took a journey to become a lawyer, and now a top legal expert who is at the front stage and behind the scene for more than 19 years. She has been dealing with copyright cases, legal requirements about health & beauty products, food supplements, and pet food, as well as the Personal Data Protection Act, according to the business expansion of RS Group.
Have fun with work, enjoy what I do, and join life with my beloved work until forgetting that it has been a good 19 years.
"Since the first day at RS, I have been proud. It is the opportunity that you can do your best with your job. The next thing I am proud of is honesty and happiness in what I do. I am lucky to have met super lovely superior and colleagues. This good luck makes me have fun with work, enjoy what I do, and join life with my beloved work until forgetting that it has been a good 19 years. I am so happy to have been working here that it has become an integral part of my life."
Enjoy your work even when it gets serious. Keep sharing and learning simultaneously for the success of the Legal Affairs.
"In the Legal Affairs, we work as a team. To understand a given task, we have a brainstorming meeting among four divisions: Contract, Copyrights and Television, Registration, and Lawsuit. The brainstorming aims to close the gaps in all aspects. While we learned the same things at different universities and read the same books, we have different views. The nature of work might seem stressful, but we tend to make it enjoyable and share ideas cheerfully. This is because the result is the same finished task that we all need to learn and embrace together."
Diversity is not a problem; it is creativity in human nature.
"In the Legal Affairs, the employees' age ranges from the twenties to sixty. People of different ages have different ways of thinking and solving problems. Fortunately, being in the middle generation makes me enjoy my work. I have seen the ideas of the older generation and those of the new generations. Senior colleagues seem to think deeply and thoroughly, while younger colleagues tend to solve problems quickly with their modern knowledge. I view that diversity is not a problem; it is creativity in human nature, including gender, age, and idea. It is not a problem that needs changes. We have to get used to diversity, accept it, understand it, and make the most of it in each situation. This will make our organization grow and progress at a faster pace."
The growth of RS Group results in various business categories. This is a challenge for the Legal Affairs to keep pace with them.
"In the context of constantly growing business, the role of legal officers at RS cannot be passive. My first role as a legal officer at RS was about music copyrights. RS Group has marched into different industries, even in the digital TV bidding; the Legal Affairs also supervises legal matters in the TV business, followed by the commerce business selling beauty products, dietary supplements, and pet food. So, in the past 19 years, I have never felt bored because I have been growing together with the company. I have been proud to be a part of the "RS" family since the first day of work. The business changes over time, but every business that RS Group operates makes me proud to work behind the success of these businesses."
Hard-working, cheerful, and witty people should apply for a job at the Legal Affairs of RS Group.
"Those interested in working in the legal career should be diligent, patient, witty, good at solving problems, highly responsible, and humorous. By the serious nature of work, I would like to have cheerful people in my department. Special assets would be their ability to work hard and not give up easily."